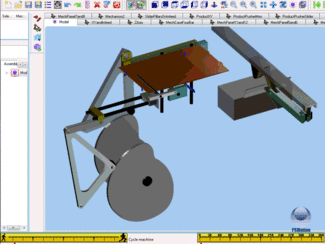 MechDesigner has all the features to model complete machines and packaging.
MechDesigner uses "parts" that are joined together with pin, sliding or rod-end ball joints to build your mechanisms. Motions are then added to each mechanism to control the movement and timing. This is exactly as we think of machines. However, MechDesigner has another clever trick up its sleeve: you become a kinematic expert without even knowing it. You can even model the packaging.
As you add parts, joints and motions to build your mechanisms, MechDesigner will automatically compile all the parts and joints and motions in to Kinematic-Chains.  Once MechDesigner recognizes a Kinematic-Chain, it can compute the intended motions of all the other parts with fast, exact, mathematical functions.  You will not believe how fast your simulation can cycle: faster than you can see - so you will usually need to slow it down.