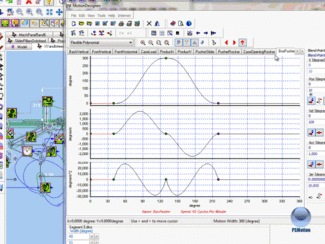 Good Motion Design is at the heart of good machine design
We believe at the heart of any well-designed machine, there will be good motion design.  That's why we have developed a very flexible, comprehensive motion design tool.  Without this tool, MechDesigner becomes just an extensive mechanism modeller.
You would not be able to design, model and analyze complete machines.  In fact, without this, all the inverse kinematic and cam design capabilities would be next to useless.  With it, we believe you can model the mechanisms on pretty much all packaging machines.
MotionDesigner has a full set of Motion Laws and Cam Laws.
MotionDesigner includes many different Motion-Laws (Cam-Laws). You can blend the Cam-Laws to make sure the motion is continuous in position, velocity, acceleration, and, if necessary, jerk. In packaging machine design, it is extremely important to design the motion of every mechanism as smoothly as possible. Smooth motions reduce vibrations in the mechanisms and give a more reliable, quieter, and long-lasting machine.
MotionDesigner gives you all the tools to make sure the motion is 'continuous' and smooth..  You can design a bad motion of course. However, our online help has guidelines to make sure you work towards a good motion design.
MotionDesigner, can provide you with virtually any motion you need (far exceeding the VDI (Institute of German Engineers) Technology Note of 2143 Parts 1 and 2).
You can design a motion for a cam or a servo with any of these motion-laws or cam-laws:
Dwell
Constant Acceleration-Deceleration (also called Parabolic)
Constant Velocity
Cubic
Quadratic
Polynomial 3-4-5
Polynomial 4-5-6-7
Flexible Polynomial
Simple Harmonic
Cycloidal (CYC)
Cycloidal + CV 20%, 33%, 50% and 66%, Constant Velocity (actually any percentage)
Modified Trapezoid (MT)
Modified Sinusoid (MS)
Modified Sine +CV  20%, 33%, 50% and 66%, Constant Velocity (actually any percentage)
Simple Harmonic Motion (SHM)
Sine-Squared
Sinusoid
Ramp
S-Curve
Sine-Constant-Cosine (SCCA)
SCCA + CV 20%, 33%, 50% and 66%, Constant Velocity (actually any percentage)
Throw
Triple Harmonic (2 and 3 Harmonic Series)
Inverse Sinusoid - to give linear constant velocity from a crank.
Motion Table from Excel or NotePad. You can import position, velocity and acceleration, or let Motion Differentiate for you.
Many Motion-Laws have parameters so you configure them exactly as you need for your design.
You can use the Flexible Polynomial Motion-Law to design very complex motions.