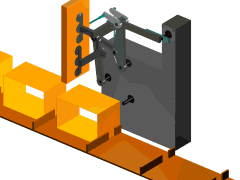 Some mechanisms are very useful in packing machine simply because they move parts along a useful path.  We want to guide a pack along a path that avoids hitting packs that have already been erected in the previous cycle.  The pack must not hit the gripping tool. The pack must be rotated by 90 degrees and move along a path that avoids other objects.    This is known as a problem of planar guidance.
The Pin-Slide-Pin mechanism is rotated by 90 degrees by a cam driven rocker.  This type of mechanism has a useful path with almost straight line extraction and placement.  The configuration of the mechanism determines the rotation angle. 
Two parallelogram four bars on the rocker and slider make the second set of suction cups translate. This means the Case is erected as the cams rotate the mechanism.